As a nonprofit leader, fundraising is a crucial aspect of the important work you do. And doing it well is no small feat. The headwinds can be fierce and the unpredictability, daunting.
From retaining key staff, to navigating recessionary periods, to adapting to changing giving habits, the landscape of philanthropy is a wild, fraught terrain. You don't always know what to expect.
Couple these realities with the fact that most of your constituents are inundated with donation requests. If they're charitably inclined, they've been on the receiving end of appeal after appeal, with multiple organizations vying for their philanthropic dollars.
Your constituents are savvy, too. They know the difference between real urgency and the kind that feels forced, even manipulative. Like you, they don't want to be coerced, they want to be reminded how their generosity changes lives.
If fundraising has an inviolable law, it must be this: Most of us give when need, inclination and capacity intersect — and when we're asked to give by someone we know.
Building meaningful donor relationships takes time.
People give to people. Fundraisers aren't miracle workers capable of forming an instant, unbreakable bond with everyone they meet. It takes time to develop relationships with key donors who, when presented with the right need, have the inclination and capacity to make a generous gift.
How much time? Well, that depends. But think about it this way: Imagine getting a call from someone who works in the advancement office of a charity you've supported in the past; all she wants to do is meet for coffee at a time that's convenient for you. How long before that first meeting takes place? How many more calls would she need to make before you'd open up space in your schedule?
Though our answers to these questions will vary, I can almost guarantee that it would take weeks, if not months, before the two of you are sipping lattes at your favorite café.
Fundraising takes time. There's no getting around it. You can't cultivate a meaningful relationship with a donor (or anyone else) overnight. It's a process.
Fundraising revenue lags without a champion and a framework.
In my fundraising roles, there's always been pressure to grow revenue. No matter the context, the mandate was pretty much the same: Move whatever's being measured up and to the right. And do it quickly!
I can understand the urgency, especially if giving is in decline and programs are in jeopardy. But it doesn't change the fact that fundraising takes time. Growth is a byproduct of relational investment, good communication and vision casting. Outcomes are negatively impacted when you bypass any one of those three.
For people to know who you are, what you're doing, and where you're going, you need a fundraising champion: a person (or team) who understands the intricacies of your organization and what moves your donors to give.
A champion is able to skillfully connect your why — what makes your organization tick — to your supporters' reasons for giving. She knows your nonprofit's story inside and out and can usually forge stronger connections through her ability to share it.
But as important as a champion is, you also need a framework: a system that is sensible and scalable; something that works and grows with you. (Feel free to borrow ours.)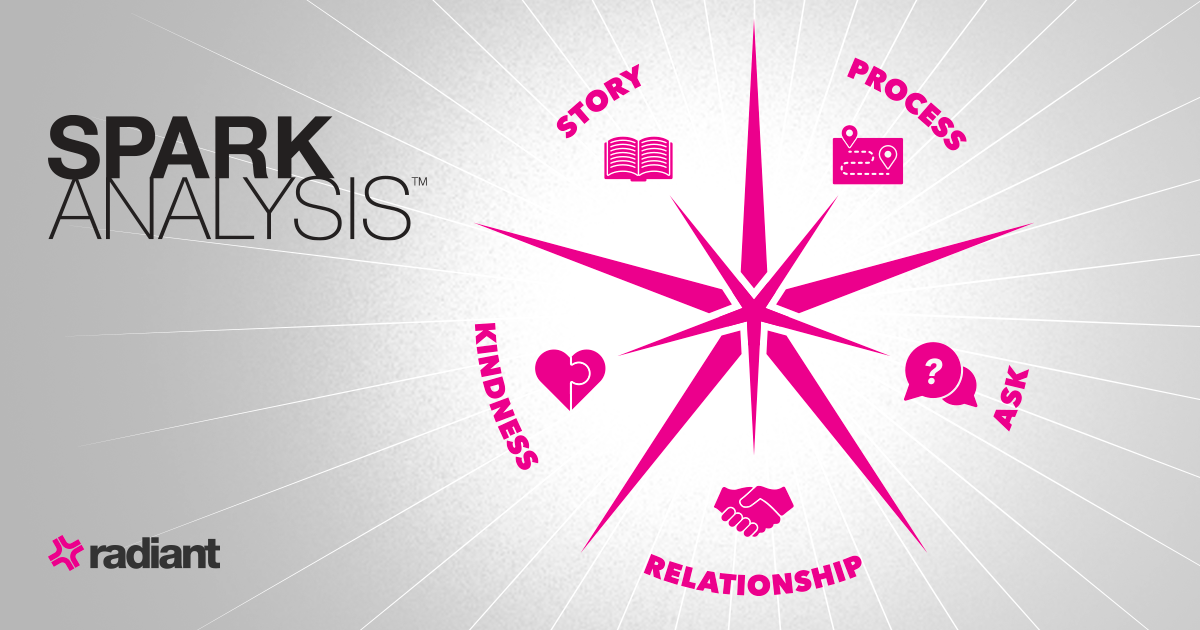 To spark generosity, sometimes you need a catalyst.
Of course, not even a champion and a framework are enough to overcome the friction that builds up when there's not enough help. While fundraisers and their teams are some of the most capable people we know, they're also human, which means they have limits. They can't do everything and shouldn't be expected to.
Sometimes moving a project or campaign from idea to reality — from to-do to done — requires a catalyst: expert-level services designed to augment your ability to raise money. And that's where we come in.
Simply put, our goal is to make it easier for donors to support your cause. We help you assess what's working and what's not and give you tools and advice that spark generosity among your constituents. But we don't stop there.
At the heart of our approach is a commitment to advancing your mission. We realize it takes money to fund the programs and services you offer, and that there are real people who count on you to deliver on the promises you make. None of that is easy or cheap.
The right strategic partner can help you fund your mission.
Having the financial resources you need to cover overhead and make an impact is what makes fundraising so important. Your organizational effectiveness depends on it. So does the staff you lead and the community you serve.
Partnering with you to improve the efficacy of your fundraising is something we're passionate about. As we work together over time, our expertise adapts to your organizational strengths and weaknesses, making sustained success more likely.
The strength of our model is that it grew out of our experience helping missionally-minded organizations not only raise money but improve their branding and communications. We understand the importance of the whole ecosystem — from digital to print — and how it enhances or detracts from fundraising.
You've got a mission to accomplish. If we can help you fund it, let us know.